WHO WE ARE
We are a global sports company connecting the next generation of athletes, coaches, teams, leagues and sports facilities with the latest in video and analytics technology, powered by AI and machine learning. Along the way, we've built a media platform, broadcasting hundreds of hours of live sports content each week.
WHAT WE DO
Selected in both 2017 and 2018 by Fast Company as one of the 10 Most Innovative Companies in Sports, our Smart sports video and analytics platform is driving real change across all levels of sport. We install high-performance cameras to capture all sports action, but the real power of our system is in the cloud – with instant video, automatic recording and analysis, full integration, content generation and more.
This is what gives our athletes, coaches and teams the PlaySight Edge.
CONNECTING THE NEXT GENERATION OF ATHLETES
The word connection is important to us. We're connecting courts, fields, gyms and rinks around the world to the internet and our Smart sports platform
The next generation is important too. We want to harness the power of technology for good and get youth and kids interested in sports and to become athletes and fans for life
The athlete is at the center of everything we do. Our platform provides affordable automated production, live streaming, coaching tools and fan engagement, but athlete insights are the fuel for the PlaySight engine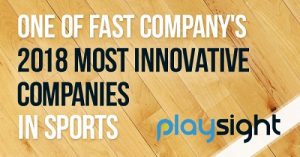 OUR DNA
TO IMPROVE PERFORMANCE: Through visual learning and analysis, We help athletes improve faster and play with more purpose and focus
TO HARNESS THE POWER OF TECHNOLOGY FOR GOOD: By merging the desire for technology that today's athlete has with their passion for sport, we're connecting their physical and digital worlds and bringing them together
TO SOCIALIZE SPORTS: PlaySight athletes live stream, create, save and share their sports content with friends, fans and on social media. We give our users their own media channels to take their careers to the next level
TO INSPIRE AND MOTIVATE: We're getting young athletes off of the couch and onto courts, fields and gyms by making sports more engaging, challenging, and ultimately fun
WHAT IS A SMARTCOURT?
A SmartCourt is a connected camera system powered by artificial intelligence (AI) and the latest in machine learning technology. By installing cameras around courts, fields, gyms and rinks, we make these sports facilities 'Smart.' The cameras and software provide several benefits to our athletes and users, including automated live streaming, multi-angle video, SmartTracker technology, instant replay, as well as tagging software, data and analytics.
WHERE WE ARE
If you are interested in working at PlaySight, check out our careers page. We are all over the world, quite literally. Offices in Israel (just outside of Tel Aviv) serve as our technology and R&D HQ. We have a US office in New Jersey, minutes from Manhattan. And the rest of our team is wherever sports are being played – from Atlanta to Los Angeles and Australia to Germany.