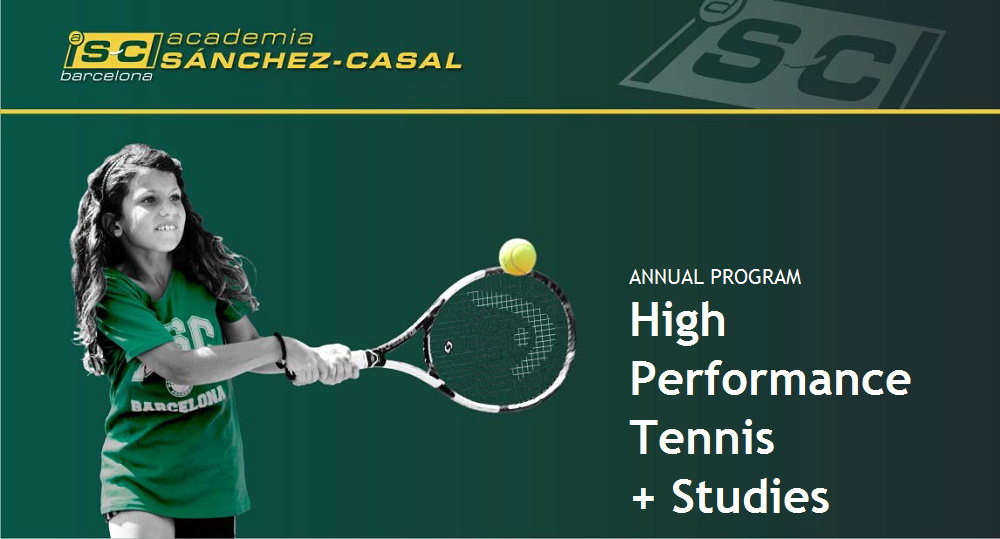 Sanchez-Casal Annual Program
EDUCATING STUDENTS-ATHLETES
The ASC Annual Tennis + School Program is the ultimate expression of the Academy's mission: creating opportunities in tennis, in education, and in life. We offer the best high performance tennis training combined with an excellent academic education in our own school, ES International School, located inside the Sánchez-Casal Tennis Academy facilities.
The Annual Tennis + School Program provides optimal conditions for our students-athletes to reach their maximum athletic performance and continue with their studies at the same time.
ES INTERNATIONAL SCHOOL
Located inside the ASC sports campus, ES International School allows student-athletes to continue their academic studies while training at a high performance level.
All classes (apart from the Spanish and Catalan languages classes) are conducted in English.
The school offers 3rd through 12th grades(ages 8 to 18 years old).
Fully accredited by the Middle States Association (MSA), a regional accrediting association in the United States, and the National Independent Private Schools Association (NIPSA), with headquarters in Miami, Florida, United States. The school is also recognized in Spain as a Centro Extranjero (foreign school), offering the American system of education, by the Generalitat de Catalunya and the Spanish Ministry of Education.
Guidance for obtaining academic and athletic scholarships at American Universities.
BOARDING OR NON BOARDING
The Academy offers three types of accommodation on-campus: Residence, Bungalows or Apartments, which adapt to a variety of different accomodation needs.
Students can also live off campus or live half-board at the Academy.
PUSH PROGRAM
Players can boost their tennis level even further with the Push Program.
The Push Program can be integrated within the Summer Camp Program and includes one hour a day, Monday through Friday, of private tennis training. This allows student-athletes to work intensively on the technical and tactical side of the game.
Two hours per week of physical training are provided in a group of maximum 4 players.
One session of Mental Training is offered in a separate group of 1 to 4 players.
TENNIS + SCHOOL
Duration: 11 months from September to July/August
Tennis program: 15h. / week
Mental: on court: daily / group session: 1'5h./month
Videoanalisis: 1 video / semester
Push Program (optional): one to one 5h./week
Age: from 12 to 18 years old
Physical program: 5h./week
Tournaments: 1 tournament / month
ASC TRAINING SYSTEM©
The ASC Training System© is unique in the world. Designed by Emilio Sánchez Vicario and Sergio Casal, it is based on four core pillars:technical, tactical, physical and mental.
Each of these four pillars is developed intensively, and each is tailored to the player's stage, which depends on age, physical condition and tennis level. The stages are reflected in the ASC Development Pyramid©, and range from the initiation stage to the elite stage.
In the area of sports science, the program includes all services on site that the player may need, such as physical training, nutrition, sports psychology, and physiotherapy.
TOURNAMENTS AND TRAVELLING TEAM
A personalized program is created to include local, regional, national and international tournaments throughout the year.
Assistance from our coaches of the Travelling Team is offered during all these tournaments.
WHAT WILL YOU LEARN?
The developmental pyramid of the Academia Sánchez-Casal Players.
Based on the ASC Training System© used in our Academies, Emilio Sánchez Vicario has created a pyramid to describe the evolution of players as they progress for their athletic development, by age and level of play.
Each stage of this evolution has its own general and specific objectives for each pillar of training (technical, tactical, physical and mental).