At the Aegean Tennis Centre in the beautiful Greek island of Paros, we have built a top quality new tennis venue to exercise the body.
We are creating our unique atmosphere of friendliness, support and fun, to relax and refresh the spirit – so that tennis players of all ages feel encouraged to improve their skills, from beginner to advanced level, with the help of friendly, professional coaches if required.
The island's background of blue sea and sky, golden sun, whitewashed houses and brilliant flowers is an inspirational setting to fall in love with tennis. We aim to share our love of tennis with players from Paros, the rest of Greece and all over the world.
Come and enjoy yourself at this exciting new Paros Tennis Club near the picturesque town of Naoussa, have fun meeting new players and entering our social tennis events.
We look forward to giving a warm Greek welcome to all our future tennis players!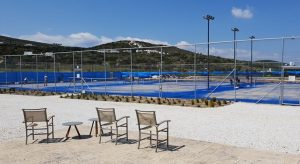 We offer Tennis Court Hire, Adult Group Tennis Lessons, Kids Tennis Lessons, Private lessons, Cardio Tennis & Tennis Holidays in the beautiful Greek Island of Paros.
It's time to take your game to the next level! 
Whether you've never picked up a racquet before, haven't played for many years or you are an experienced player and want to give to your game an extra boost, our team is here for you!
You can buy and book online your private lessons.
For us in the Aegean Tennis Centre, children are our priority!  We offer small groups of  6 children maximum per coach for optimum supervision and learning. The class goes in a cirquit type game sense format, involving a variety of drills to maximise joy and involvement. All the quipment and courts designed for children to play in protected areas, creating a climate of confidence and security.
The training session is 60 min long each with full of fun & excitement!
There is no need to buy a membership to join the group, but you must register  your child for security reasons.
The training sessions usually start on the 1st of October till 30th of May.
All 2019 classes will last till the end of June!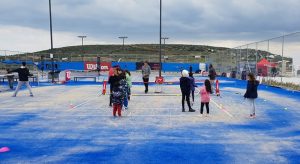 We count on your suggestions!
Aegean Tennis Centre
NAOUSSA PAROS
CYCLADES-GREECE